The conception, the commencement, the near death and the momentous ascent - Doctors For A Cause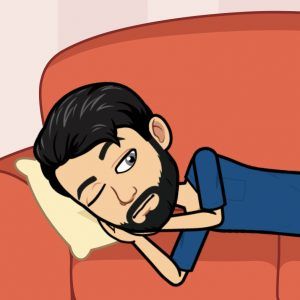 This is the story of how we grew Doctors For A Cause (DFC) from an idea to one of the largest NGOs, comprising of medical and non-medical student alongside young doctors over the past three years.
Inception:
DFC has its humble roots in Kolkata. Now that I retrospect on circumstances, I feel my friends and I got extremely lucky on several accounts that ultimately led to its foundation. Nevertheless, it goes without saying that DFC is the product of the blood, sweet and tears of numerous like-minded, forward thinking individuals that decided to put the needs of the community above the needs of their own.
I completed my under-graduation from KPC Medical College (KPCMCH), Kolkata which is also the place where DFC was born. On the day of my admission at KPCMCH I met Arjun and a couple of weeks later, Ayub, both of whom would later go on to become my fellow co-founders. The first few years as a fresh budding medical student were absolutely blissful. It was only around the end of final year when the seed for a social welfare 'club' of sorts was sown when sum of 6000 INR survived our annual college festival when we were the outgoing batch of students. In a collective unanimous decision by the welfare organisation which was then run by Ayub, Arjun and Dalia, it was decided to use the entire sum to visit an orphanage, buying food and gifts for the underprivileged children there. Looking back, this day and the events leading up to it would later lead to the birth of DFC.
The day was an extremely gratifying one to say the least, not because we were humbled by how much happiness a small gesture could bring, but by the overwhelming response our college showed in support of our decision to use the left-over money for a greater cause. It was this response that made us realise that maybe, there was room for a social welfare chapter somewhere. In a quick play of worlds the whole endeavor was given the name 'Plexus For A Cause.'
Early days:
The next couple of weeks were a blur amidst internship but the brainstorming behind what could arise from 'Plexus For A Cause' continued. After much deliberation, a proposal to the college administration was submitted by Arjun, Ayub, Sourav and I to begin a social welfare organisation within our college under the name 'Kapsonians For A Cause' (as a student KPCMCH, you were a Kapsonian). Within a couple of weeks we received news of the acceptance and with a small token sum of money, work began.
It would only be fair to state here how fortunate we were that such an organisation did not already exist in our college or any other college for that matter. Also, since the initial team comprised of final year students and interns, workflow was swift as we could 'get things done' easily. However, this very fact would play as a disadvantage later.
Kapsonians For A Cause (KFC) began work in May 2017 with some health camps, ORS camps and donation drives. Funds for the same were raised by community collection and crowd funding. Manpower was never a problem. Initially, it did not strike us to try to grow KFC beyond our college and we were content with the little bit of social work that we could take time out for.
I realised two quirks about social work quite early on. Firstly, social work isn't everyone's cup of tea. In any group of individuals even if 20 percent show interest in a social welfare organisation, that should be considered a satisfactory response. Secondly, all individuals can be divided into roughly three groups taking social work into consideration. Type 1 individuals have not and probably will not ever do any social work while type 3 individuals live in social work and would not need an organisation like KFC to remind them about the same. That leaves us with type 2, the largest group. These individuals, though inherently interested in the idea of extending a helping hand, are yet to be initiated on how to do so. If KFC, could overcome this barrier for them or make it more convenient to contribute in cash, kind or manpower, maybe a larger fraction of people would embrace social work more willingly.
Ending freshman year:
As we were stepping into our second year since inception, KFC has single-handedly completed four successful on-ground activities and built a formidable foundation within the college. We were ready to expand to form a more cohesive body, but first it was time we needed to ask ourselves some difficult questions. How do you grow a social welfare group of college students, with minimal funds, avoiding any bad blood? To answer this question we asked ourselves another question. What do we really want KFC to be known for?
The answer was 'work.' We wanted to be an organisation that can show their work.
The recruitment process was thus kept very simple and it is one we use even to this day. If one wants to volunteer at KFC, they would need to submit a proposal for on-ground work they would undertake during their tenure. If the idea was found to be executable, both practically and financially, it was accepted. Samriddhi, Afshan, Saiesha, Devashish, Garima, Payel, Sejal, Raihan, Ayindrila, Akashraj and Monideepa joined on as members of the board for DFC's second tenure. Most of these folks had been working long before they were board members though!
From strength to strength:
As KFC's second tenure began in 2018, Arjun, Ayub and I started to take a backseat to prepare for our post-graduate entrance exams. However, that did not stop KFC's growth. We started having a small albeit impactful social media presence on Facebook and Instagram, regularly uploading excerpts from our on-ground work. With a bit of social media growth, discussions began about using a more approachable name that was easier to comprehend for the general public. After much deliberation and experiments with a lot of health-care centric names, KFC finally morphed into Doctors For A Cause (DFC).
DFC began to expand to cater to animal welfare, mental health, sexual and reproductive health, and LGBTQ+ awareness. Towards the end of the year we organised our first original street play to break the stigmas associated with HIV. Aptly named, "The Society Virus" stormed the streets of Kolkata.
During this tenure another interesting insight dawned upon me. There were no dearth of NGOs in Kolkata, in-fact there were way too many. Most of them were better funded, more experienced and better equipped to handle daily hurdles, which we were not. However, they all lacked experience in the healthcare sector. They found it difficult to organise camps or health-care visits, procure medicines and provide prompt treatment to the ailing. They often had to contact a doctor well in advance, fix a date for a health camp, provide all necessities and then, most importantly, organise a follow-up regimen for the attendees. This is were I saw DFC could have an edge. For us, procuring a doctor meant requesting an intern, resident or professor at our college, who were our contemporaries, seniors or teachers (sometimes even an elder brother, sister or parent) to spare a day for a good cause which they would willingly oblige to. Our hospital always had a plentiful stock of free medication provided by pharmaceutical representatives. Finally, further follow-up and referrals could directly happen at our hospital, where, in cases requiring urgent care, we could request the Medical Superintendent to waive off charges for an investigation or test. DFC was unique in this way and with time we decided to provide medical assistance to larger NGOs who lacked expertise in this field. This led us to some of our most successful collaborations with Animal-Shelter cum Hospital and Research Institute (ASHARI), Alzheimer's And Related Disorders Society of India (ARDSI) Calcutta Chapter and Responsible Charity.
Well begun is only half done:
By early 2019, DFC had grown into a name that was being thrown around in the medical college circuit of Kolkata. The word of mouth was good. As the time approached to form the next board, we were looking to expand ourselves further. To keep everything fair and un-biased, the current board was completely dissolved and each member had to re-apply with a proposal for their next tenure, should they wish to continue. This time we settled for a board strength of nearly 30, which now in retrospection, I feel was biting off more than we could chew.
This year, Arjun and I began our residency, which meant that we had to leave the city. This also meant that it was the second year in succession we would not actively be able to participate in the on-ground activities.
However, this is where I share another realisation that I had. I understood that though we had done a lot of work over two years, it was all poorly documented, with barely any data and photographs to show for it. This was primarily because we did not feel the need to advertise the work we were doing but ultimately that led to no record of it! Now, as we started approaching larger companies, NGOs, and hospitals for aid we did not have a portfolio to back ourselves. DFC learnt this lesson the hard way and henceforth we took it upon ourselves to document all activities, at least on social media promptly. This lesson also led to us eyeing a registration for DFC as well.
DFC continued with it's past collaborations but we were unsuccessful in building new ones, not for lack of trying though. A young new board took over and with that came the hurdles that a young medical student faces in 'getting work done', something we never had to bother ourselves with. A lot of the former members were caught up in a hectic internship or residency and work began to decline. Towards the latter half of the tenure, DFC had reached a slump. In the beginning a lot of us refused to acknowledge it, hoping all the while that by some quirk of fate, DFC would pull a Hail Mary, but that, of course did not happen.
Since all work was voluntary, I personally did not want to coerce any member to hard labour, especially when I was unable to do so. Things went from bad to worse and I remember getting on a call with Arjun to discuss the future of DFC. We spoke regarding, if we should be looking for an overall shutdown versus keeping an organisation open and functioning for the sake of it but not getting any fruitful work done. DFC had no progress in the last four months of its third tenure.
A productive lockdown:
On 11th March 2020, when the World Health Organisation declared the Coronavirus disease a pandemic, DFC had been essentially dormant for 4-5 months, other than the occasional social media post. The next couple of months following this day, can only be described as a blessing in disguise of DFC.
The nation went into lockdown on the 24th of March with all essential medical services coming to a halt. On a whim, I thought it would be interesting to document what the day in the life of a healthcare worker during this pandemic would be like. DFC started working on a series of Instagram live sessions on the same under the name, "COVID-19: My Story." This initiative soon led us interviewing young doctors from all over the country. The lockdown, the uncertainty and the need for answers helped these sessions become an enriching, popular online session, especially with soo many people suddenly spending 8-10 hours doom scrolling on social media.
DFC devoted the month of May to mental health awareness and the month of June for awareness regarding the LGBTQ+ community. Two back to back months of competitions, awareness campaigns and online education had a snowball effect. By the mid of June, DFC was back from the dead.
Also during this time, serendipitously we rekindled our rapport with Dr. Tirthankar Guha Thakurta (TGT), a multi-disciplinarian, with a vast knowledge of the medical sciences. DFC and TGT started organising masterclasses on common topics for MBBS students like Interpreting Electrocardiography, Radiological Skiagram Interpretation, Acid-Base and Electrolyte Balance, Scientific Paper scripting and one even on the current understood evidence, pathophysiology and management of COVID-19.
The two awareness months in succession encouraged community participation while the masterclasses served as an outlet to keep anxious students engrossed in concepts they were longing for since the lack of clinical education. The extended lockdowns one after the other continued to serve as repeated blessings. DFC jumped onto the webinar bandwagon quite early, hooking in viewers. From being dead in the water in March, we built a base of nearly 2000 medical students from around the country registered for our masterclasses. Our Facebook and Instagram page growth skyrocketed and we hit 10,000 likes on Facebook and 2000 follows on Instagram in no time! We took the plunge into YouTube and our masterclasses recorded over 30,000 views! And this was just the beginning. In June, we received a promising proposal to begin a Chennai Chapter with its base at Sri Ramachandra Medical College. The DFC train was suddenly off the rails.
Now that the ball was finally rolling, it was time to dissolve and revamp the board once again but COVID made things tricky. There is only soo much one can analyze to decide if someone is the right fit for DFC via a Google Form or Zoom Call. Keeping in mind the limitations of a fully online recruitment we decided to go ahead with it anyway. The board for the fourth tenure for DFC was a little different. We took on a legal team by the name of 'The Calcuttan Lawyers' who started work in full force for DFC's registration. The board was divided into an advisory committee and an executive committee. The advisory committee consisted of a core team and a legal team, while the executive committee was split into a Calcutta and Chennai team. Other than this DFC took in 50 college representatives from all over the country!
On the 1st of July, DFC underwent a facelift with an nationwide core workforce of about 80 odd individuals, a volunteer strength of 700+ from all over the country with booming Facebook (13k) and Instagram (3k) pages. DFC also introduced eight dedicated perineal teams solely focused on specific issues plaguing our society called Task Forces. I would be remiss if I didn't mention a few names like Amritha, Anurakti, Arushi, Devamsh, Dhruv, Namrata, Roshmi, Yachna and Yash who were all instrumental in this phase of DFC's growth and are all currently directors of the executive board.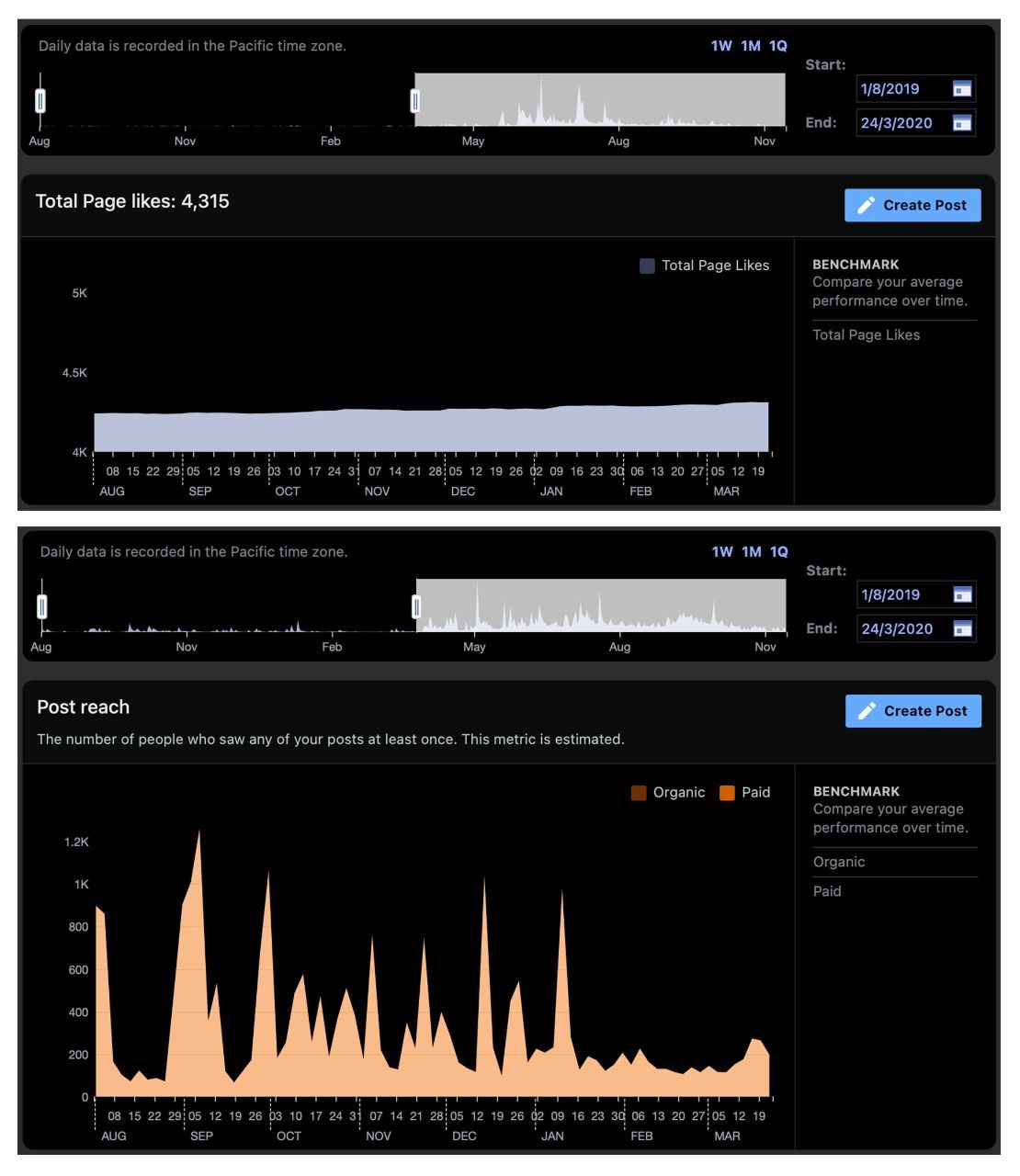 ---

Since the inception of this new board DFC has only grown from strength to strength.

Here's a bird's eye look of what we have achieved:

The Mental Health Task Force organised a series of webinars on coping with stress, anxiety and dealing with uncertainity during the pandemic over closed group sessions online (Zoho Showtime Viewer) where one can post queries anonymously. Alongside, indentification was warning signs for poor mental health is something we have been educating people on closely on our online forums.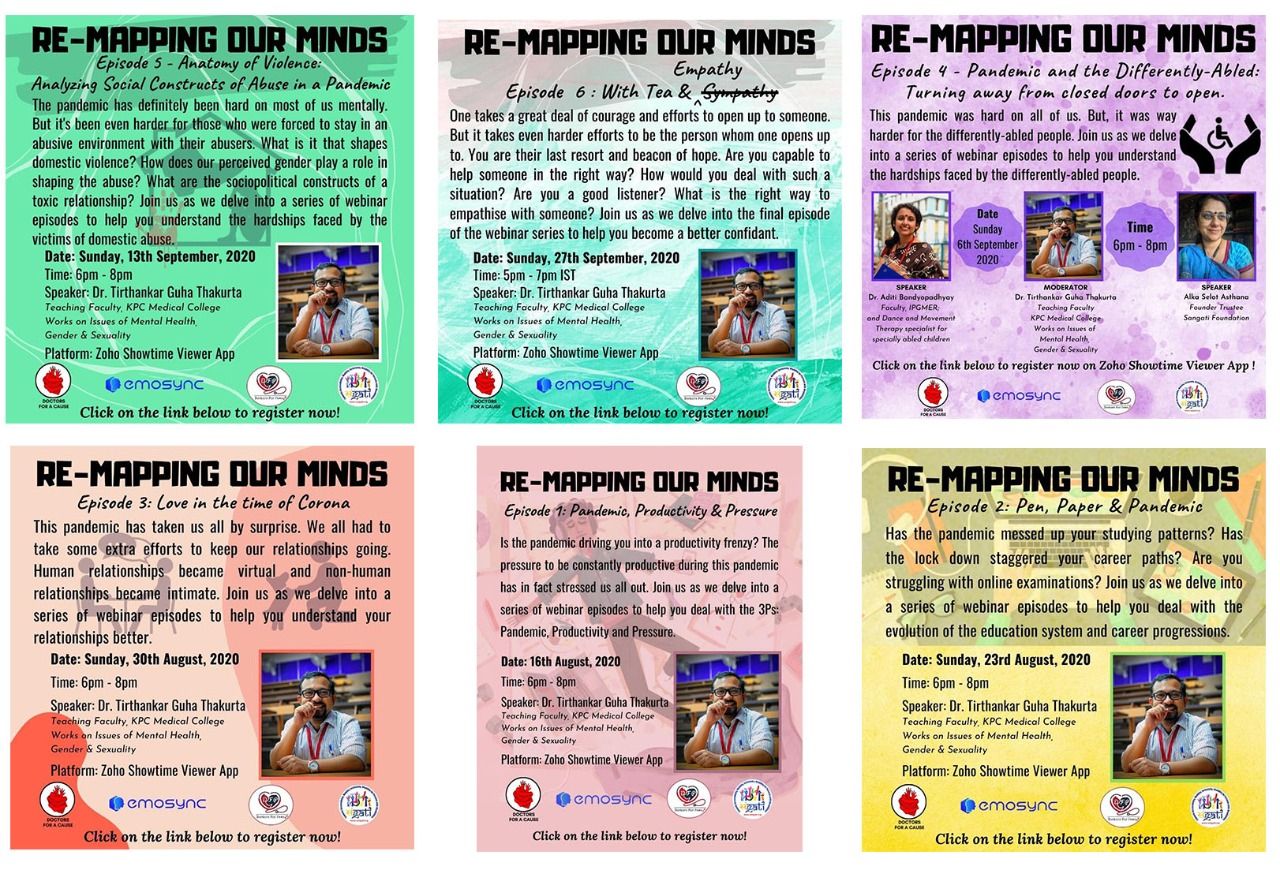 The Academic and Education Task Force besides hosting regular masterclasses, organised the first ever nationwide online medical quiz – 'Social Quiztancing' spanning over two days engaging hundreds from around the country.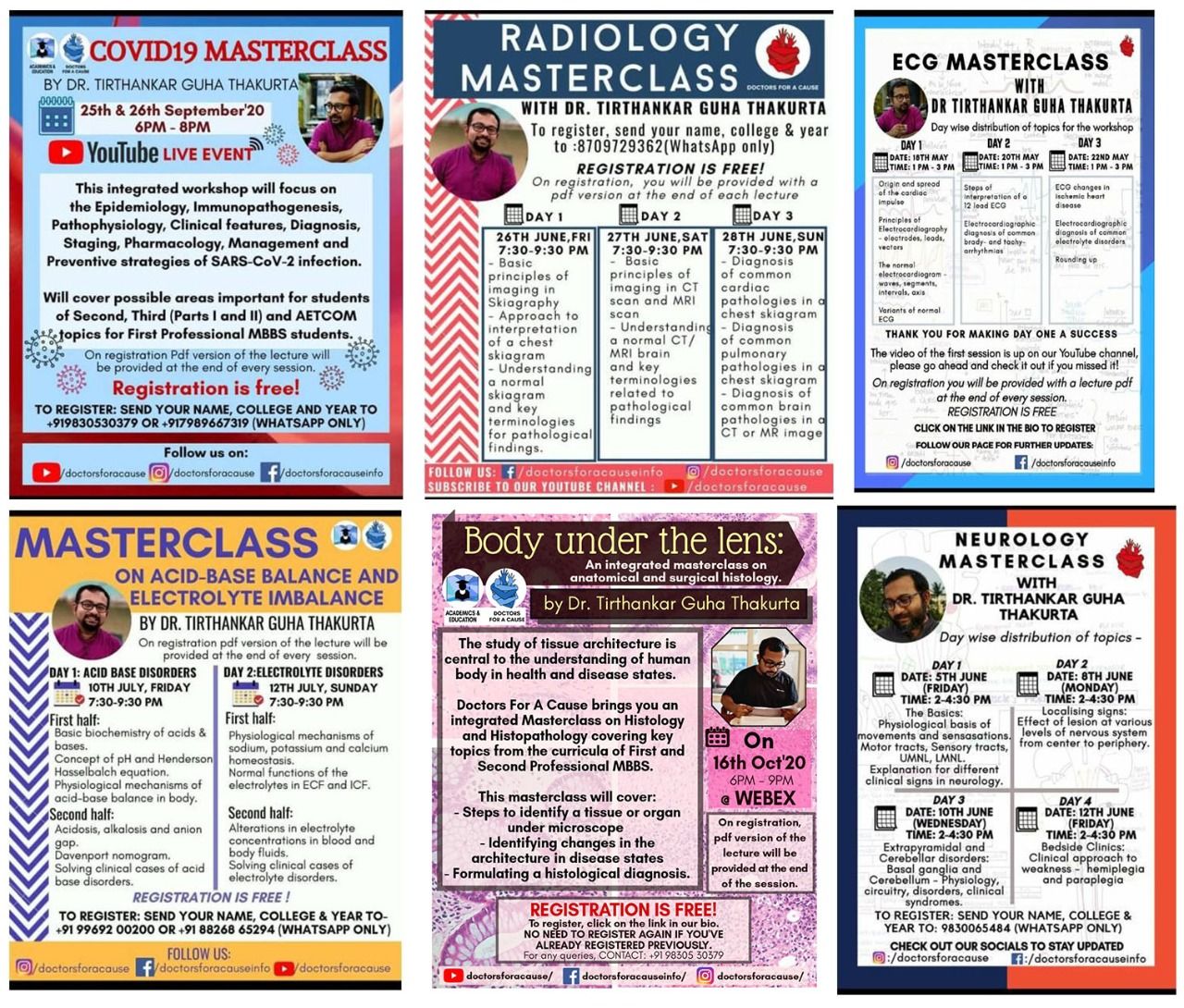 The Public Health Task Force has been regularly raising awareness about the current scenario of COVID in the country. We raised 50,000 INR which went into the relief of the victims of the Amphan Cyclone in the Sunderbans.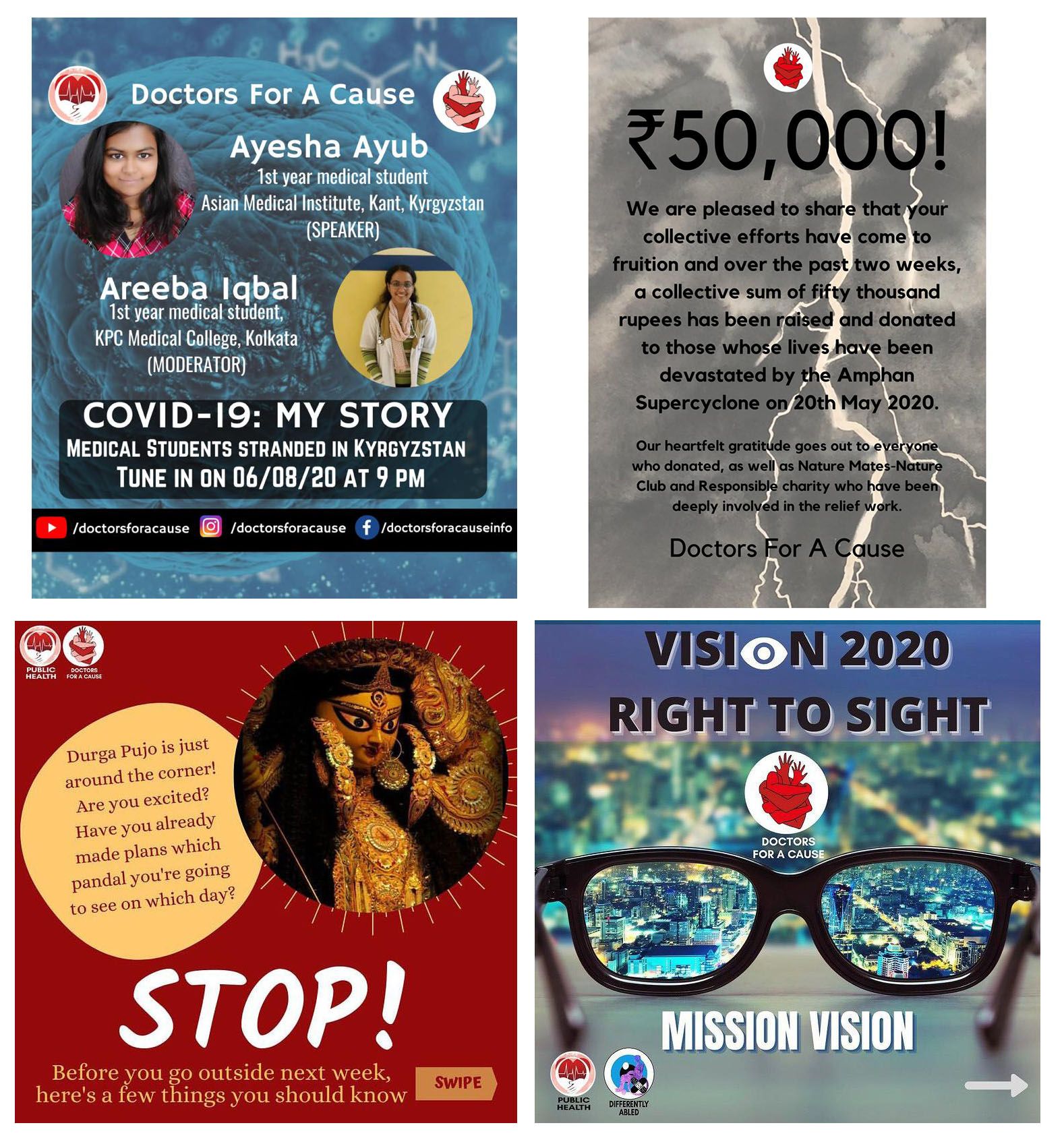 The Animal Welfare Task Force continued with 'feed the stray challenge' during COVID with special attention to pet care during the pandemic.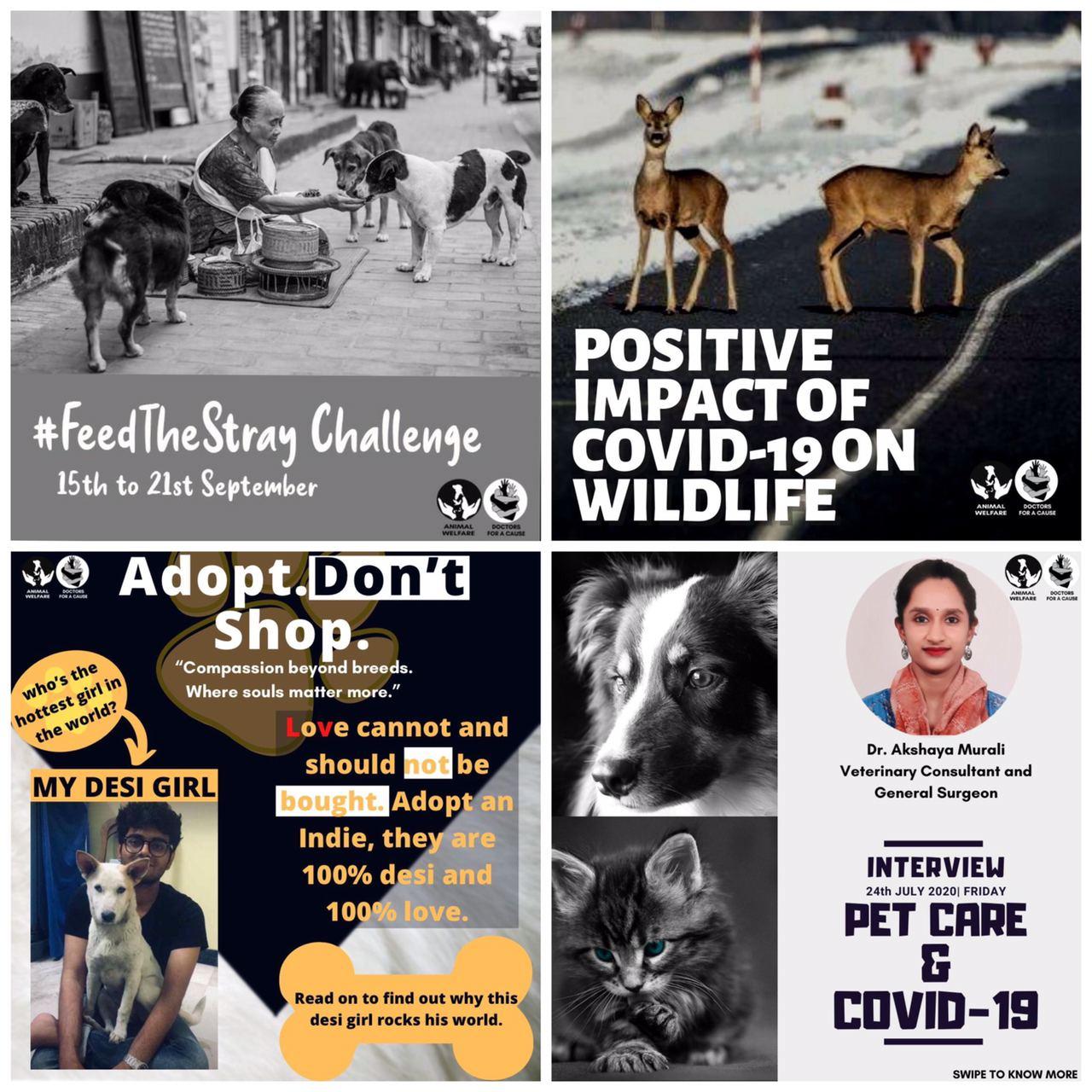 The LGBTQ+ Task Force spread education about the LGBTQ community and worked on a Queer support group. They also explored Queer Mythology, breaking stigmas related to it.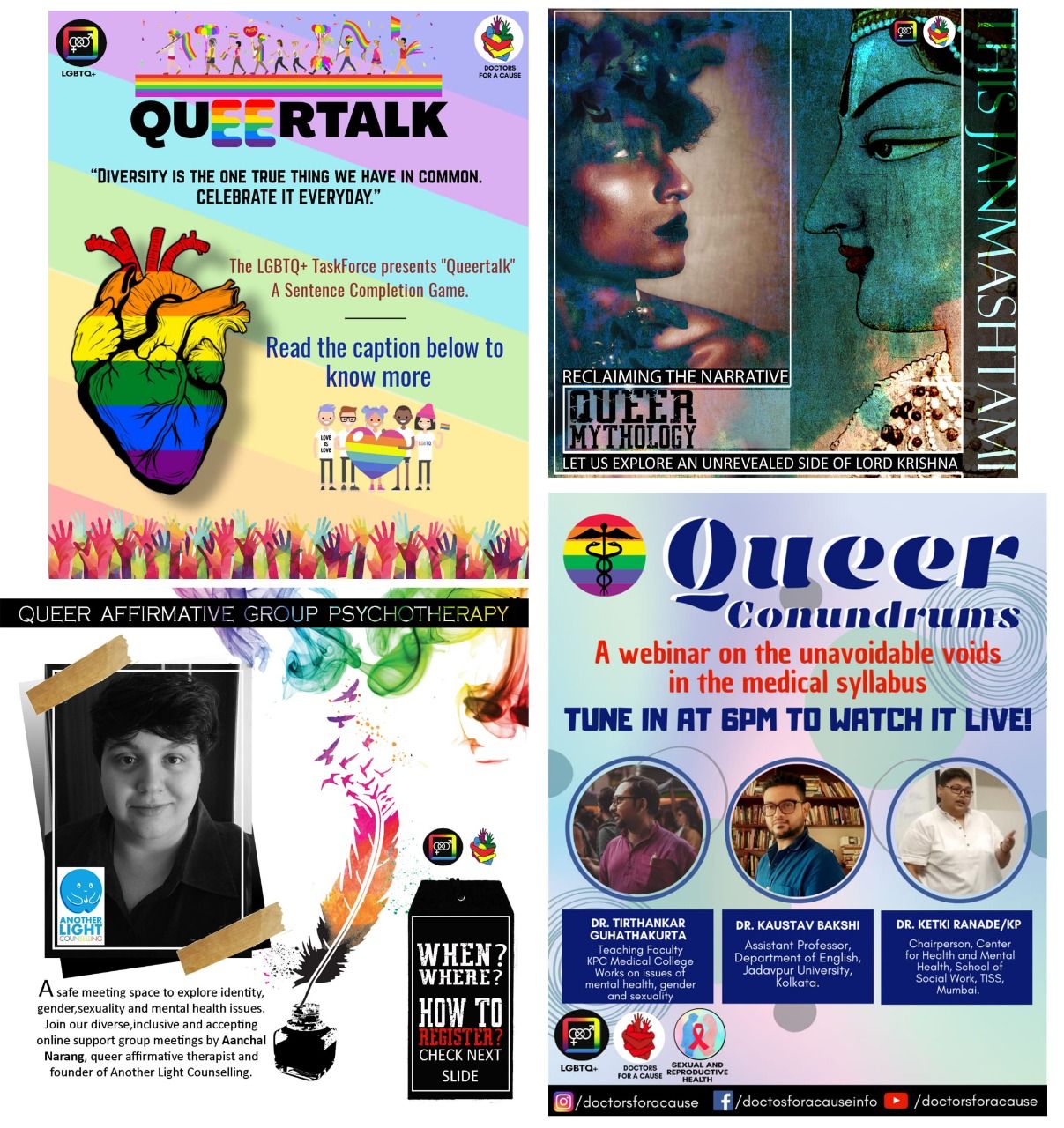 The Women's Health Task Force started an internal support group for PCOS. We have also been regularly raising awareness regarding breast and ovarian cancer, menstrual hygiene and safe practices.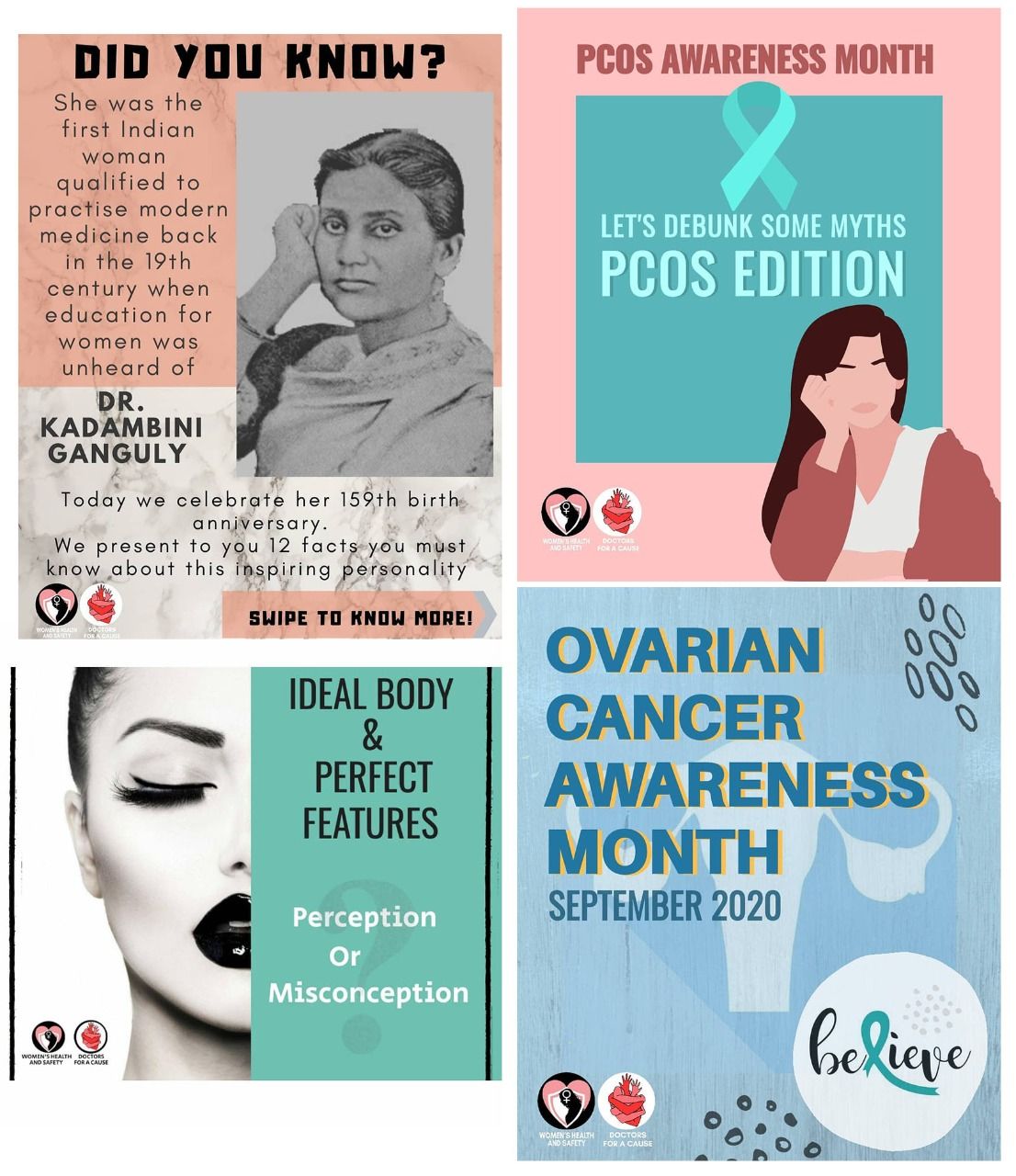 The Sexual and Reproductive Health Task Force broke barriers with the first ever online entertainment gameshow – 'Taboozled' which challenged the stigmas associated with sexual and reproductive health in our country. They also explored child sexual abuse, a topic heavily undermined in our society.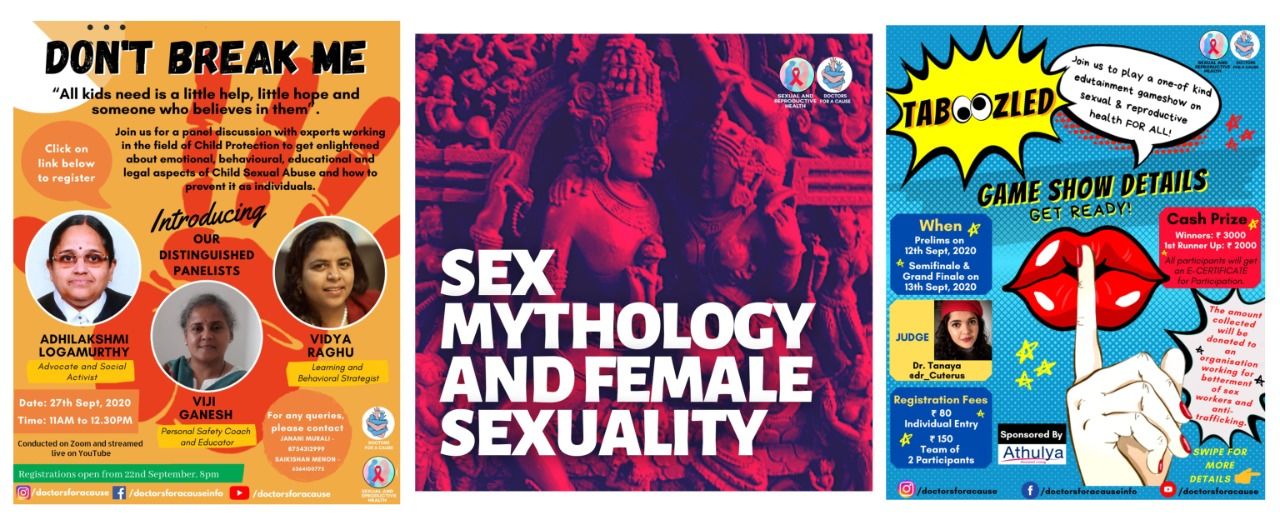 The Parability Task Force runs an online sign-language coaching programme on our social media handles. The government proposed an amendment mellowing down punishments for those insulting or harassing differently abled people. Within 24 hours, Task Force for Differently Abled of Doctors For A Cause raised their voice by collecting responses from people to sending them to the ministry, opposing the amendment. Due to collective efforts around the nation, the amendment was finally withdrawn.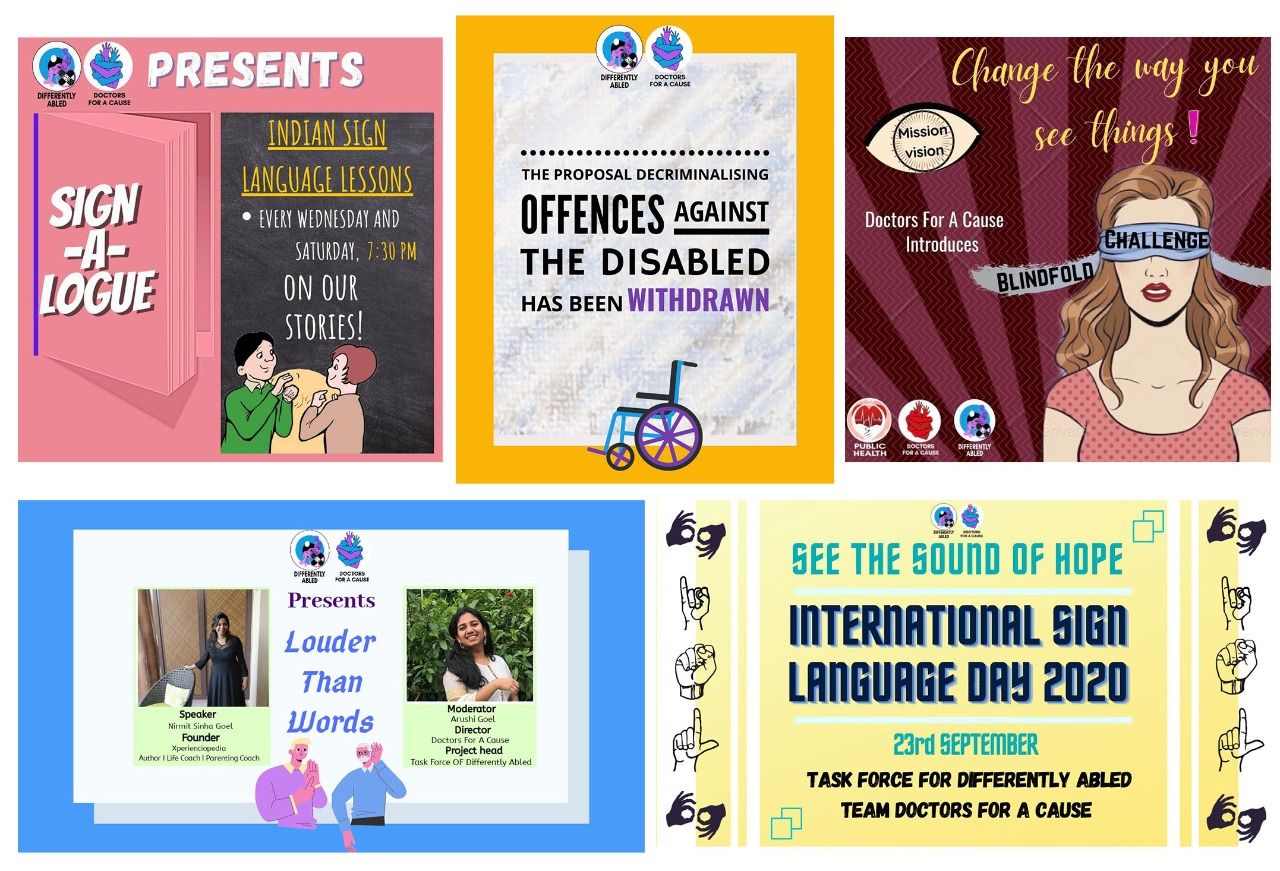 Concluding thoughts:
A bit of luck and a bit of opportunity comes knocking once in a while but I would always attribute the success of an idea like Doctors For A Cause to perseverance of all the individuals that have stuck with it since its inception. From what can be described as a locker room project, DFC is now registered non-profit, non-governmental, social-welfare organization comprising of medical and non-medical students alongside young doctors from all over India.
If I was asked three years ago about where I would see the then-KFC in three years, my answer would be nothing more than a college 'social club'. Where we have reached now is truly a testament for what hard-work, diligence and determination can result in. We made it a point not to keep utopian expectations from DFC, so that we could easily surpass them and focus on the immediate task at hand.
I'm elated that DFC has been able to ensure that social work isn't something grueling, it can be easily incorporated as a daily life activity. Thinking out of the box, was the real ball-game, for which our endeavours became so successful and I hope we can continue with the same. Here's hoping that the future of DFC is bright.
Find us on social:
Credits for all collages for this blog go to Devamsh who delivered them all in record time.
Photo gallery: