❄️ Freezethawed: The Newsletter #025 - A leap of faith

Hello everyone!
Today's newsletter is a small rant, and maybe a lesson along the way.
Short version:
I am extremely grateful to share with you all that my maiden study on COVID and the awareness regarding its ocular manifestations is now published in the Indian Journal of Ophthalmology (IJO)! Below is the story on how it happened.
Long version:
Around this time last year, mankind was just getting acquainted with the term COVID and life as we knew it was just on the verge of changing forever. Fast forward to May 2020, we were none the wiser, however, the first crop of academic material on COVID (case reports, original articles) began to surface in journals around the world.
It was around this time that I thought maybe getting a footprint into the COVID research fraternity wouldn't be the worst idea. However it was a farfetched thought considering the fact that the patient load had decreased exponentially, cases of interest were few and far in between and the fear of actually contracting COVID in the process lurked high. Also, I was just a budding second-year post-graduate resident with no resources or insight into what would actually add some value to existing literature. Although there were plenty of reasons to scrap this idea entirely, the dream (of sorts) of having a 'COVID study' rode high, in my subconscious at least.
I recall it was August, when I came across an original study published in the Indian Journal of Ophthalmology, where a group of doctors took hospital data to publish the fall in super-speciality ocular check-ups during the COVID period and their inference on the same. This peaked my interest, because of the retrospective nature of the study. It was something I could maybe, emulate.
Viral conjunctivitis (a red eye) was reported as a rare ocular manifestation of COVID. At first thought, maybe an awareness study could be conducted amongst the patients visiting my hospital to gauge how many of them had noticed such a manifestation or were even aware of the same. My colleague and I presented this idea to our professor but we were immediately shot down. He said the study wouldn't have much precedence because it is expected that the general population would have little knowledge about this. I remember clearly that we were about to scrap the idea entirely. Serendipitously, it was at this point when we had an eureka moment and it struck us that we can conduct this study amongst the healthcare workers whilst educating them along the way. It seemed quite feasible and plausible. We decided to take a shot!
October set in, and India was setting all time record high cases with each passing day. On the flip-side, little did I know that selecting an appropriate study subject was just the beginning of all our hurdles.
The very first step after convincing my professors to let me and my colleague undertake this study, was seeking the appropriate permission from our medical superintendent, making sure no ethical issues were involved. I cannot express in words the number of ridiculous questions we had to face to get a green signal. We visited a statistician multiple times to determine what a statistically significant sample size for our study could be. It was impractical to screen every single hospital health care worker so we opted for a stratified random sampling method. This way we would only have to screen a small cohort. When it came to the actual screening, we prepared a robust 18-point questionnaire scored evenly so that the awareness regarding ocular manifestations could be quantified and analysed. Google forms were chosen as the medium for distribution. All this transpired in-between twelve hour long COVID ward duties in PPE's and multiple quarantines for not only me but all the participants of the study who were sometimes unreachable or untraceable. Achieving the sample size was an unforeseen hurdle but with repeated reminders we finally had data that we could statistically analyse.
This was also the first time I wrote the manuscript for an original article, citing multiple references and tabulating heaps of data looking for co-relation patterns. Reminiscing, I can identify that this was the hardest part of the entire ordeal. Doing an awareness study on a disease nobody knew anything about, we have very little material to work with. With new literature constantly emerging, most sources had to be repeatedly cited or re-cited.
Another fortnight later, around late November, our manuscript was ready for submission. With a sigh of relief that we had made it this far we decided to aim high and shoot for an IJO publication.
Within a month our manuscript returned back. It needed corrections, but considering the nature of the study, it was acceptable as a Letter to the Editor which we gladly took up!
Looking back, I feel content that I've made my two cents of contribution in the plethora of research that has gone into the diagnosis and management of COVID. What seemed like a distant dream in the month of May when the world was still reeling from the coronavirus blow, is now a reality. This manuscript, and the idea behind it is purely a leap of faith, a shot in the dark, but it has taught me an extraordinarily great amount about the world of research and publications. I am very proud of the work done in this study albeit a small one, but the experience that I could garner while doing it has been phenomenal.
I hope this (not so) short story restores your belief in taking a leap of faith as it did for me. Also if you're thinking of dabbling into research work you should give it a shot. It is an arduous task but a fulfilling one.
You can read my manuscript here.
Until next time!
Anujeet.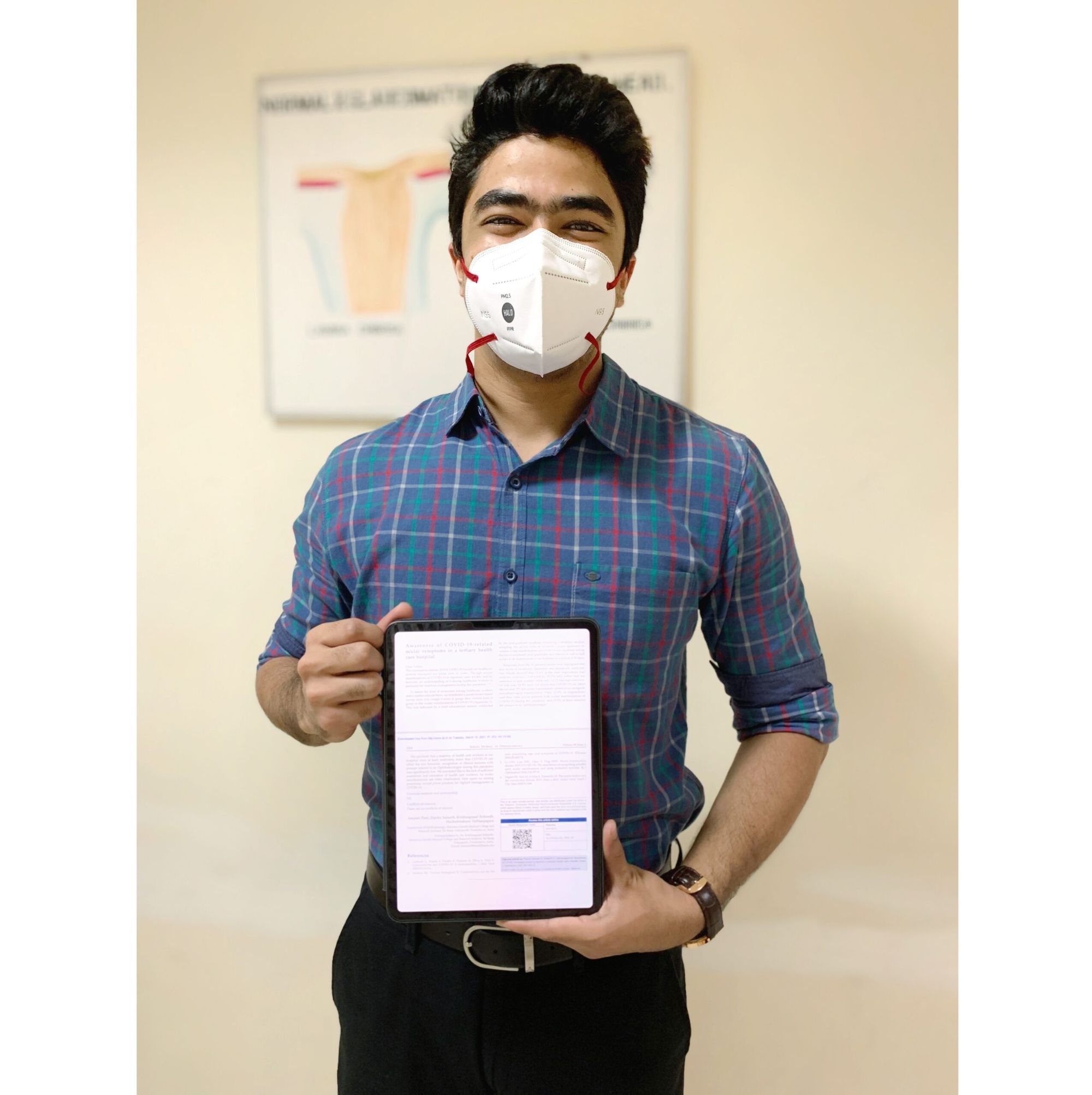 ---
Anujeet's book journey
Currently I am reading:
Anxious People – Fredrick Backman
Aggregate, the weekly quote
Simple can be harder than complex: You have to work hard to get your thinking clean to make it simple. But it's worth it in the end because once you get there, you can move mountains.
― Steve Jobs
Harmony, the weekly song
Superheroes – The Script
Enjoyed the read? Consider subscribing to my newsletter, ❄️ Freezethawed, to get a weekly update on thoughts pondered upon by me, insights I've been exposed to and may be some interesting facts I've encountered – delivered straight to your inbox. Click here: ❄️ Freezethawed: The Newsletter
---